show history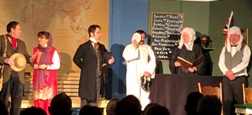 2019 Around The World In 80 Days by Jules Verne, adapted by Marc Brown
"Stampeding elephants! Raging typhoons! Runaway trains! Unabashedly slapstick! Hold onto your seats for the original amazing race! Join fearless adventurer Phileas Fogg and his faithful manservant as they race to beat the clock! Phileas Fogg has agreed to an outrageous wager that puts his fortune and his life at risk. With his resourceful servant, Passepartout, Fogg sets out to circle the globe in an unheard-of 80 days. But his every step is dogged by a detective who thinks he's a robber on the run. Danger, romance and comic surprises abound in this whirlwind of a show as 9 actors portraying 33 characters traverse seven continents in Mark Brown's new adaptation of one of the great adventures of all time." (from the publisher) <PDF photos>
---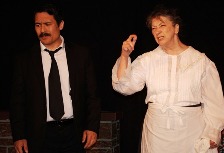 2018 The Lost Boy by Ronald Gabriel Paolillo
"Despite finding success and fame as a writer, James M. Barrie is dissatisfied with his work and his life. He returns to his hometown in Scotland to visit his mother, who still blames him for the long-ago death of his older brother in a skating pond. Haunted by the tragic accident and his mother's harsh words, James slowly begins to confront his family's tragic past with the help of an unexpected friendship and his own gift for storytelling. This fictionalized account of the birth of Peter Pan will warm the hearts of audiences everywhere who remember the magic and mystery of The Boy Who Wouldn't Grow Up." (from Playscripts.com) <PDF photos>
---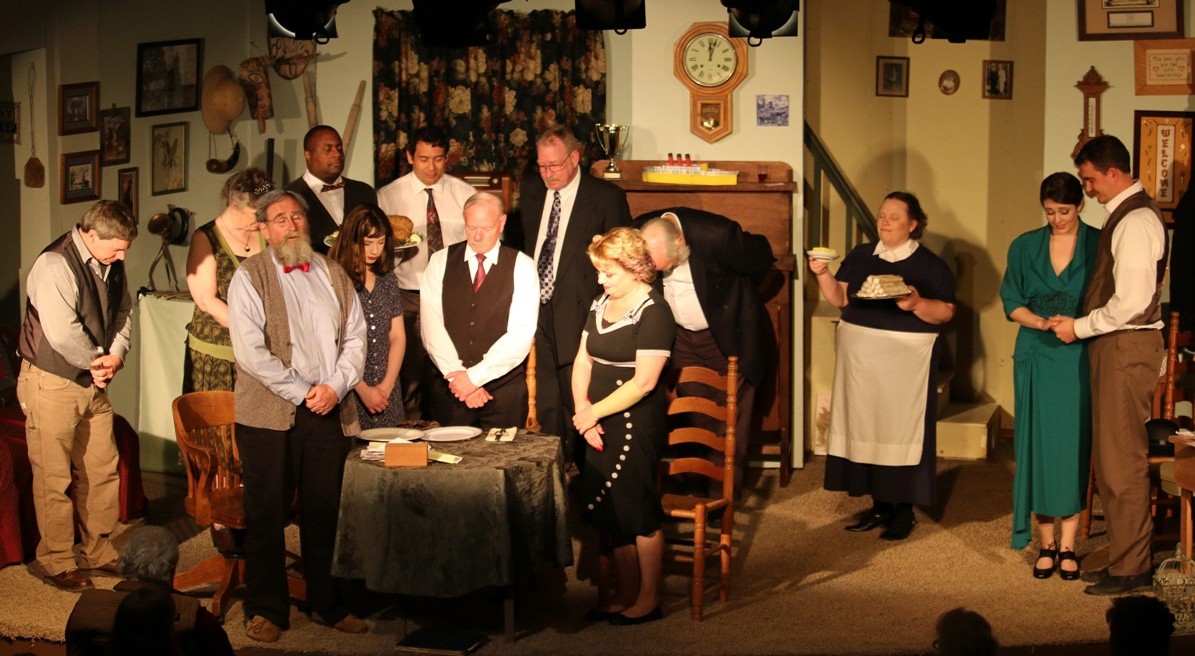 2017 You Can't Take It With You by Moss Hart and George S. Kaufman
"This madcap comedy is about two very different families. One is a wacky, relaxed, happy extended family of many hobbies and relationships. The other is tied in knots about work, keeping a nose to the grindstone, and Wall Street. The daughter of one family is in love with the son of the other family and, naturally, that's a problem. Will this young love be able to survive?"<PDF photos>
---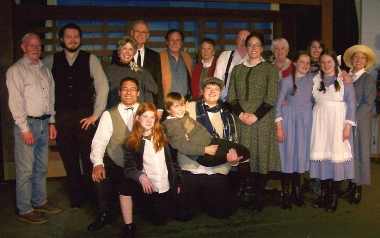 2016 Hope on the Orphan Train by Evangeline DeMaster
"Every child needs a home, a place to belong! Yet, in the 1850's immigration to America, disease, industrial revolution, all combined to produce thousands of orphans in east coast cities. From 1854 to 1929, over 200,000 orphans were put on trains, sent west, and placed in new homes. Hope on the Orphan Train follows five orphans and their escort from NYC, through Chicago, to Iowa. It includes Irish song and dance and a whole lot of hope!" <PDF photos>
---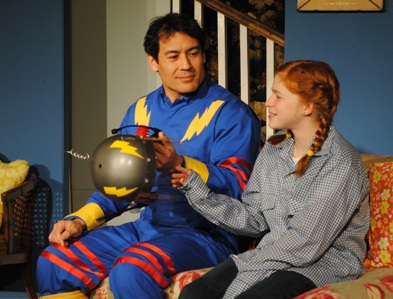 2016 FATHER'S BEEN TO MARS by William Dalzell & Newt Mitzman
"After years of blasting through outer space on his TV show, Larry Gibson finds it difficult to change each evening to husband and father. His habit of wearing his space outfit at home is a source of constant embarrassment to his daughter, Gloria. Even his wife, Mildred, finally rebels against this interplanetary world when he brings Countess Vilma, the villainess of his program, home just in time to "disintegrate" her sewing circle. Twelve year old Corky, a devout junior space scout, is the only one "in father's orbit." Mother and Gloria decide to give Larry a dose of his own medicine when one of his friends drop in. They don't know he is president of the network, who is considering Larry for an important executive position. The position is all but lost when they appear in ridiculous space costumes. Gloria's boyfriend brings about an unexpected and happy ending." (from Samuel French) <PDF photos>
---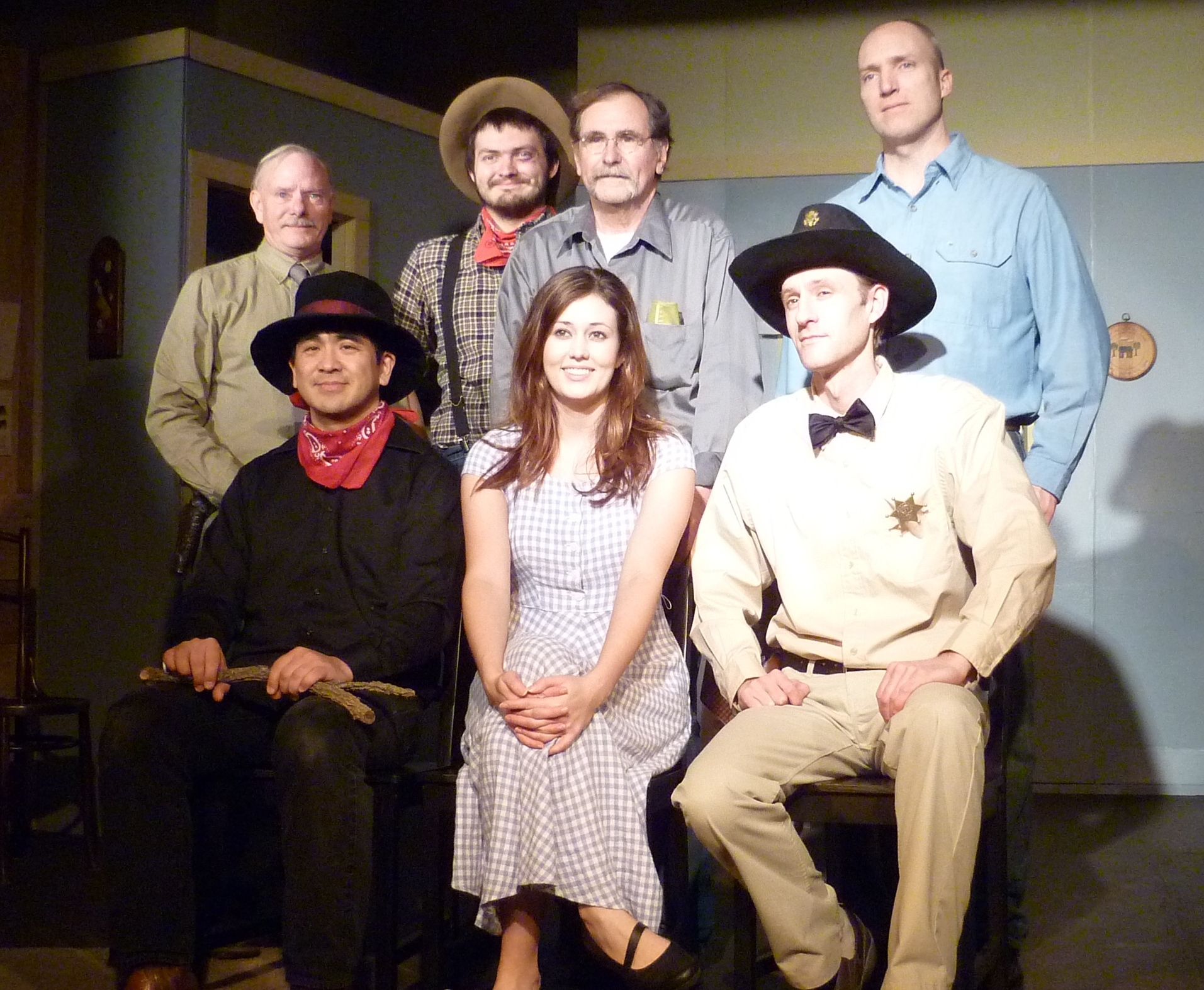 2015 THE RAINMAKER by N. Richard Nash.
"At the time of a paralyzing drought in the West we discover a girl whose father and two brothers are worried as much about her becoming an old maid as they are about their dying cattle. For the truth is, she is indeed a plain girl. The brothers try every possible scheme to marry her off, but without success. Nor is there any sign of relief from the dry heat. When suddenly from out of nowhere appears a picaresque character with a mellifluous tongue and the most grandiose notions a man could imagine. He claims to be a rainmaker. And he promises to bring rain, for $100." (from Samuel French synopsis) <PDF photos>
---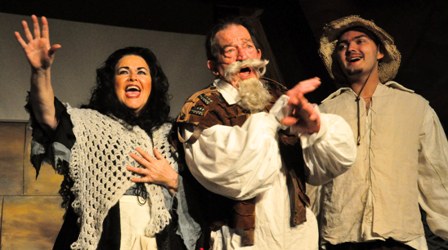 2014 MAN OF LA MANCHA written by Dale Wasserman; music by Mitch Leigh; Lyrics, Joe Darion.
Man of La Mancha is a remarkable show...a play-within-a-play, based on Cervantes' "Don Quixote." A poignant story of a dying old man whose impossible dream takes over his mind. His dream is Everyman's dream. His tilting at windmills is Everyman's great adventure. Somehow, the footlights disappear, time is telescoped and the "Man of La Mancha" speaks for humankind. (Taken from the publishers' review). <PDF photos>
---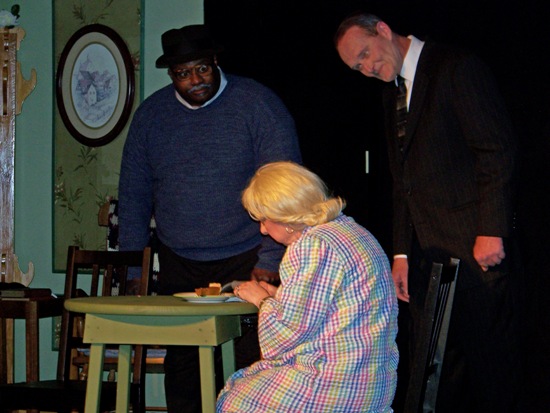 2013 DRIVING MISS DAISY by Alfred Uhry.
When Daisy Werthan (an elderly white Southern Jewish woman) crashes her car in 1948, her son, Boolie, hires a black local man, Hoke Coleburn,as her chauffeur. Over the next 25 years Daisy and Hoke face prejudice, civil rights, relationships, and much more. <PDF photos>
---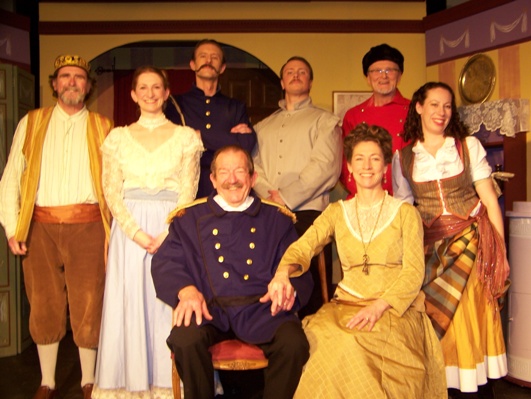 2013 ARMS AND THE MAN by George Bernard Shaw
Shaw's most popular play, Arms and the Man is a wartime romance satirizing both the glory of battle and a young girl's idealistic notions of love. Raina adores her dashing warrior fiance Sergius, until Bluntschli, a Swiss mercenary and realist (who would rather carry chocolate than ammunition), bursts through her bedroom window seeking sanctuary. Raina is torn between two very different men and two very different notions of love. (Description from ad posted on the internet by Peterborough Players.) <PDF photos>
---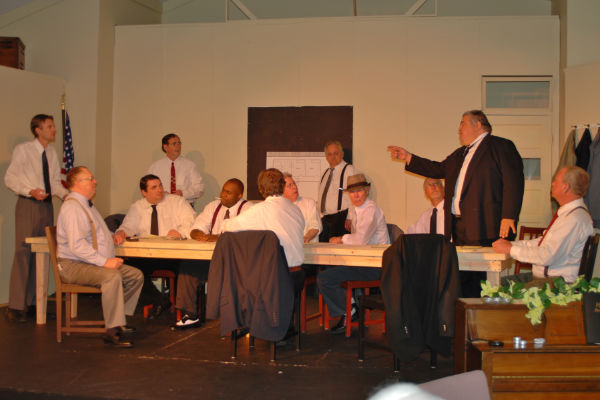 2012 TWELVE ANGRY MEN by Reginald Rose
The classic jury room drama. A 19-year-old man has just stood trial for the fatal stabbing of his father. Twelve jurors are taken into the bleak jury room. The deliverations are not supposed to be personal, but they do become so, with each juror revealing his own character as the various testomonies are re-examined, the murder is re-enacted and a new murder threat is born before their eyes! Tempers get short, arguments grow heated, and the jurors become 12 angry men. <PDF photos>
---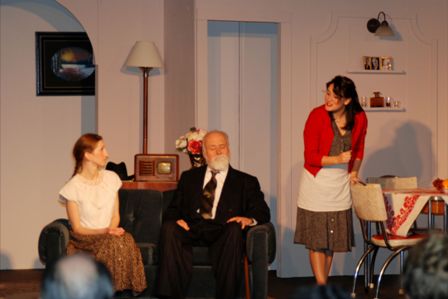 2012 A Shayna Maidel by Barbara Lebow
Two Polish Jewish sisters are separated at ages 4 and 10. The younger grows up in America with Papa untouched by the American Depression or even WWII; the older remains in Poland and survives concentration camp. Reunited in NYC after the war, two worlds collide as the sisters struggle to find themselves in "family" again and deal with the need to forgive undeserved wrongs of the past. A moving story of brokenness and healing. <PDF photos>
---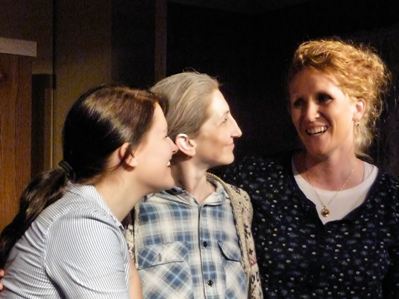 2011 Spitfire Grill A Musical
Music & Book by James Valcq/Lyrics & Book by Fred Alley
Based on a film by Lee David Zlotoff

A young woman chooses Gilead, Wisconsin, to begin life anew after serving a five-year prison term. What she doesn't know is that the townspeople need a rebirth of hope just as much as she does. Authentic renewal of life unfolds through incredible music and characterization! <PDF photos>
---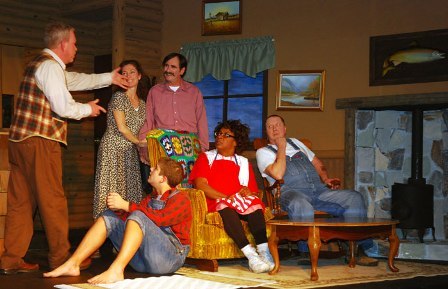 2010 The Foreigner by Larry Shue
A comedy where an unusually shy man is introduced as a foreigner who knows not a word of English. He learns family secrets from his hosts in a fishing lodge, as well as uncovering a plot against them. Charlie, the "foreigner," moves from wondering what it would be like to have a vibrant personality to discovering his potential and bringing others to know themselves better, as well. <PDF photos>
---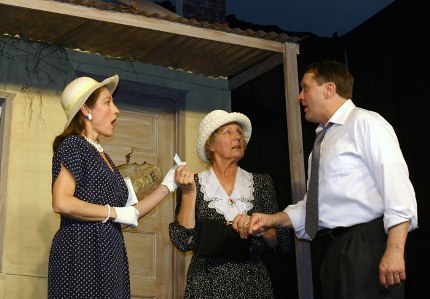 2009 Trip to Bountiful by Horton Foote
An older lady struggles to regain her dignity by returning to her home in the country.<PDF photos>
---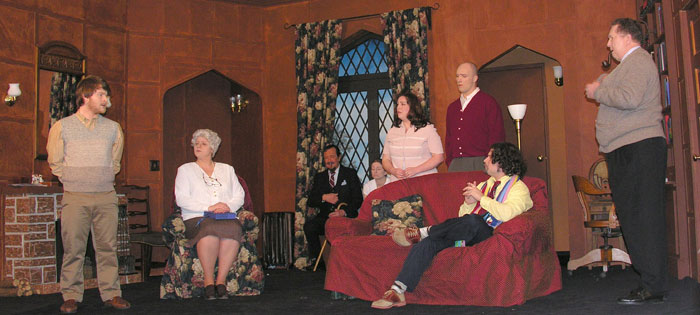 2008 Agatha Christie's The Mousetrap
Agatha Christie's classic Whodunit. Five unique guests, one detective and one murderer. A young couple struggles to make a go at running a guest house only to find themselves trying to keep everyone happy and stay alive in the process. <PDF photos>
---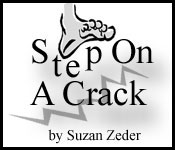 2007 Step on a Crack by Susan Zeder
A ten-year-old struggles to accept her new step-mom.
---
2006 Curious Savage by John Patrick
Comedy - A wealthy widow is committed to a home for the mentally challenged because her step-children don't like what she's doing with "their" money. <PDF photos>
---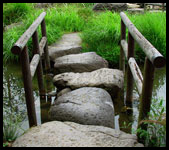 2005 Over the River and Through the Woods by Joe DiPietro
Comedy - Italian grandparents will do anything to stop their grandson from moving away from Familia -- even to inviting a young lady to dinner as a surprise. <PDF photos>
---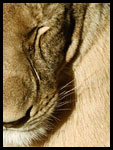 2004 Androcles and the Lion by Aurand Harris
Classic tale about kindness rewarded.
---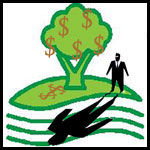 2002 Pahom's Land written by Sean Gaffney
Based on the short story "How Much Land Does a Man Need ?" by Leo Tolstoy. In the end, a man needs about six feet.
---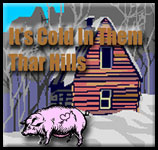 2001 It's Cold in Them Thar Hills by La Roma Rosa
Comedy - A hillbilly papa has to marry off his eldest daughter first, even though she prefers playing with her pet hog, Hubert! <PDF photos>